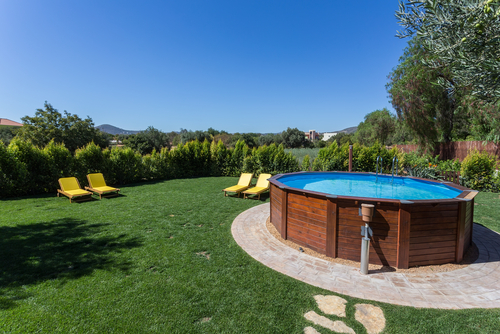 You've decided it's time - no more suffering through Oklahoma summers. You are ready to invest in an above ground pool!
As you start doing your Google research, as any good consumer does, you realize it may not be quite that simple. Above ground pools come in a variety of shapes, sizes and price points and you quickly realize you aren't exactly sure which type of above ground pool will fit your needs best.
Lucky you - we are going to introduce you to the primary types of above ground pools and give you our thoughts on their pros / cons so you spend your money wisely!
Easy Set / Inflatable Above Ground Pool
First up - we are going to look at the pools you see everywhere - all the big box retailers carry them - Intex Easy Set / Inflatable Blow Up Pools. I'm not going to go into a whole lot of detail on these - you've seen them... You inflate the top ring and then begin filling the pool. As you add water, the top ring begins to float allowing the walls to expand into the size you purchased. You can get this type of pool as large as 18' round and 48" depth.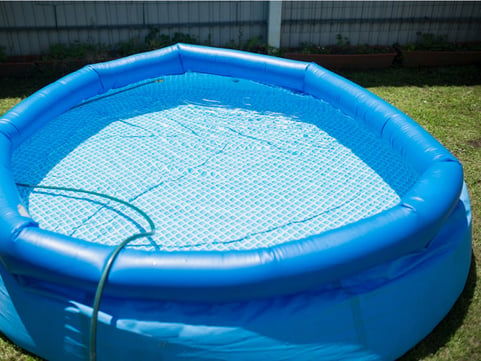 Pros on this pool are really straight forward - they are the quickest and least expensive option when it comes to above ground pools - set up is determined by how good your water pressure is and you can easily be swimming within a few hours. Additionally, they are easy to move around, and have shallow options which are great for smaller children. Since these pools leave no trace once removed, they are a great option for renters.
Cons - generally the equipment that comes with these pools is not adequately sized for the water volume, so they can be challenging to keep clean, often requiring you to drain and refill them. Additionally, the pool 'wall' can tear easily and begin leaking, and they generally only last 1, maybe 2 summers.
Steel Frame Above Ground Pool
The next step up is the Intex Steel Frame Pools / Coleman Pools. This above ground pool option comes with a steel frame consisting of a top rail, upright pool posts or bracing, and some type of footing. Generally the frame components snap together with pins to provide the structure for the pool wall/liner, and then once assembled, you begin filling. These pools will go up to a 22' round and 52" depth, and also offer some rectangular options.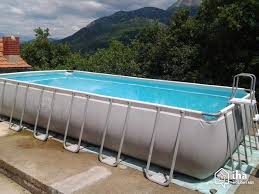 Pros include easy installation - often within 1-2 hours, affordability, and little dirt work is necessary. Similar to the first option, these are easy to relocate and have a variety of size options to accompany the ages that will be using the pool.
Cons are consistent with the blow up pools - generally the equipment and ladders that are included are not adequate for the pool. Often times pool owners will spend additional money to upgrade to a larger pump and filter to ensure clean pool water and easier maintenance, and a sturdier ladder option. Additionally, these pools are not built to be left up year round, and must be disassembled and stored during the winter months.
Traditional Above Ground Pool
Now we are into the more 'Traditional' above ground pool. These are the more permanent above ground pools you see in backyards. They will have either a metal, or resin frame (sometimes a combination of metal and resin - referred to as a 'hybrid' pool) that will include the top ledge, upright posts (that give support around the pool wall), and a bottom track for the pool wall to set in.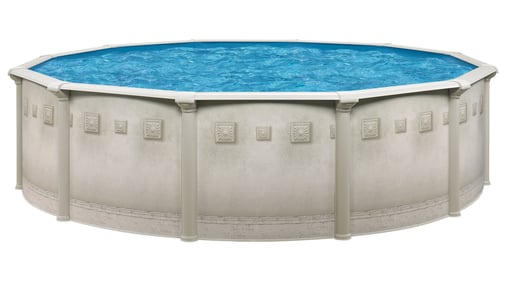 The traditional above ground pool has a separate pool wall and pool liner, which is very different from the first 2 types of pools discussed - where the wall and the liner are one and the same. The above ground pool wall is made of metal, and the above ground pool liner comes in a variety of options based on thickness, pattern, and how it is installed. These above ground pools can go up to a 36' round and 54" depth, with a variety of oval options as well.
Pros include quick, professional above ground pool installation - just 1 day (can be completed as a DIY project as well), and can be relocated and moved to a different home. Additionally, they offer a more substantial warranty and will come with a better equipment package more able to handle water maintenance. They are a long term option, as traditional above ground pools can easily last 15 - 20 years if well maintained. This type of above ground pool is an affordable option for a permanent pool as compared to inground pools - often with the above ground pool kits starting at $3,000. Finally, these pools are intended to be left up year round, so you are not spending time reassembling each season and re-filling.

Cons - there is site preparation required for this type of pool which includes ground work / leveling, and electrical connections are necessary for the equipment package (pump & filter). Because of the permanent nature of the pool, some cities / towns will require a permit prior to installation. Additionally, you are not going to have some of the functionality of a traditional inground pool like waterfall features and deep ends to allow for diving and diving boards.
Semi-Inground Pool
The last type of above ground pool is more of a newcomer to the party. They are called Semi-Inground Pools and can be installed as an above ground pool, partially buried, or completely buried. These pools are similar to traditional above ground pools as far as the components that make up the 'kit' - the main difference is they come with a fully insulated wall panel that is 2" thick. Semi-inground pools come in round, oval and even a more free-form look.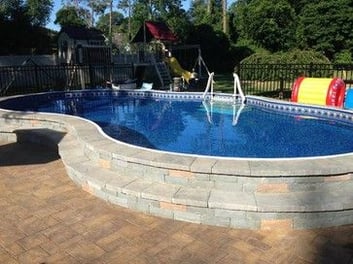 Pros - significantly stronger wall panels allow for ground forces and they can therefore be fully buried to resemble an inground pool, and additionally come in freeform designs. They have a lower cost of entry than a traditional inground pool and a much quicker installation time-frame (generally 3-5 days). With the more robust walls, these can be installed year round, even in winter months, allowing for time to get your pool installed and backyard ready for summer kick off parties.
Cons for the Semi-Inground pool are going to include the flip side of cost - although a pro is they are less expensive than traditional inground, they are the most expensive type of above ground pool on the market. Similar to the traditional above ground pool, site preparation is going to be necessary as well as electrical connections. Additionally, depending on how you plan to install this type of pool, it is not exactly DIY - friendly.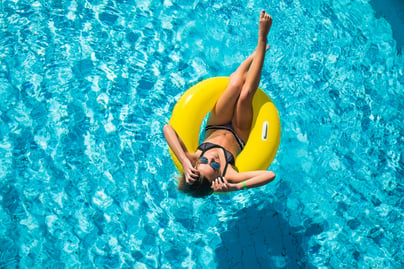 Hopefully we have helped shed some light of the variety of options available to beat the heat in Oklahoma. No matter which option is best for your family, budget and backyard, the benefit to an above ground pool is unlimited.
Spending time relaxing and bonding with your family can be easy - Just Add Water!