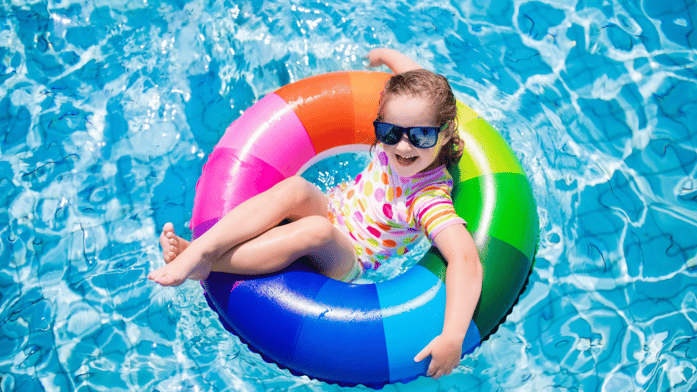 You're ready to take the 'plunge' (pun actually intended) and purchase an above ground pool. You've decided you want something that will last a solid 10 - 20 years, but as you start looking for the best above ground pool - a newcomer starts popping up in your search - a 'semi-inground pool'. This isn't a pool that has been on your list to research, so now you feel like you are starting from scratch - which to choose? Well, today is your lucky day, as we are going to look at these two options side by side to help you choose the best one.
Cost of Above Ground Pool vs Semi-Inground Pool
Generally the place people want to start is how it's going to hit the wallet, so we will get this one out of the way first....cost. A semi-inground pool is going to have a higher price tag than a traditional above ground pool. As we will see in the other factors to be evaluated, the semi-inground pool is just different in a lot of ways. You can expect to spend about $5,000-$15,000 more for a semi-inground pool, just depending on the size you are looking at and how far in the ground you are wanting to bury the pool. This will put you at about $18,000 - $25,000 for the semi-inground, which is well over the traditional above ground pool (but well under a standard inground pool).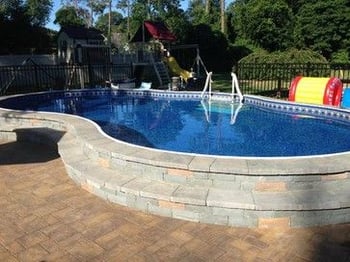 There are many reasons for the increased cost - most of them we will talk about in more detail in the upcoming sections, but the main factors are the pool kit itself and the installation process.
I'm not going to delve into the installation much here as we have an entire section devoted to it below - other than to state that installation is more involved with a semi-inground pool and takes 3 - 5 days vs. a 1 day install on an above ground pool, so an increased cost would be expected.
As far as the pool kit itself, a semi-inground pool is built to be fully buried in the ground, therefore the wall has to be strong enough to withstand the ground forces pushing against it. Whereas a traditional above ground pool relies on the outward pressure of the water for its strength, the water is no match for ground forces on pools that are completely buried.
The wall panels on a semi-inground pool are fully insulated and are 2 - 4" thick, depending on the pool model. This is significantly different than the wall you will find on an above ground pool. The pool kit itself (wall, top ledge, bottom track and upright posts) for a semi-inground pool can be 3 -4 times the price of an above ground pool kit.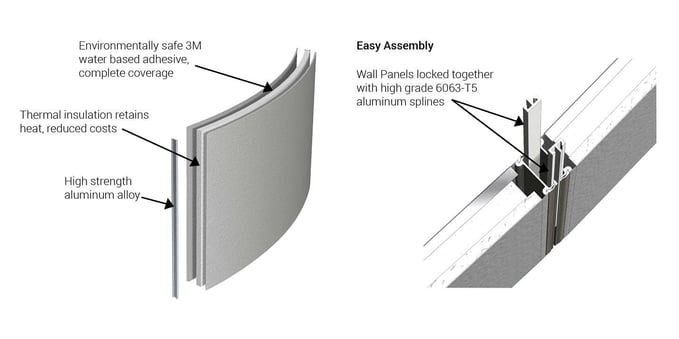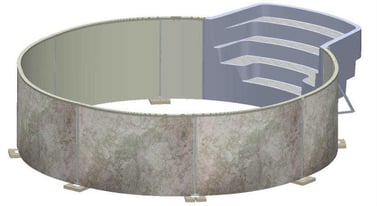 Next, if you decide to fully bury the semi-inground pool (you can choose to simply install it similar to an above ground pool), it will require a set of inground pool steps for ease of entry and exit into the pool. These steps are more expensive than the ladders and entry systems available for above ground pools. There are a variety of inground pool steps you can choose from, but generally, these steps will cost anywhere from 5 - 10 times more than an above ground pool entry system or ladder.
Finally, you have the liner. For a semi-inground pool that is round or oval, you aren't going to see a difference in pricing but if you are choosing one of the freeform options in the semi-inground, these are custom liners that will tend to cost about twice as much as a traditional round above ground pool liner.

Installation of Above Ground Pool vs Semi-Inground Pool
The next difference in the above ground pool vs the semi-inground pool is the way they are installed. If you choose a round or oval semi-inground pool and just want it installed completely above ground, or buried up to 2', your installation process will be very similar to an above ground pool.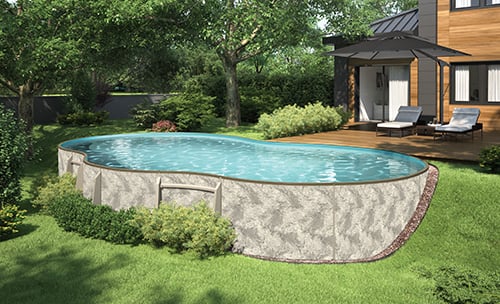 However, if you choose the freeform shapes or choose to bury the pool fully, there are some differences in the installation process. These additional steps in the install will cause the semi-inground pool to take 3-5 business days to complete as compared to 1 day to complete an above ground pool installation.
Additionally, to assist with the ground forces, or to give support for the freeform designs, a concrete 'collar' (small footing), must be poured in the more vulnerable curves, or in the case of a full bury - all the way around the bottom track of the pool. This additional concrete collar adds time and cost to the installation.
Options for Above Ground Pool vs Semi-Inground Pool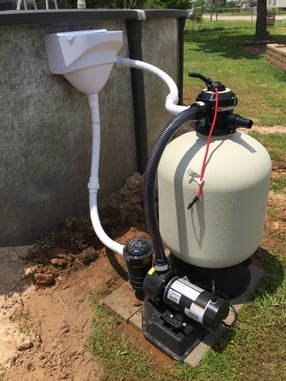 The next topic is fairly straight forward. The 2 pools are very similar and therefore pumps, filters, skimmers, and plumbing are all the same - mainly based on the size of the pool - but are not going to differ between an above ground or a semi-inground. You will still have options to upgrade to robotic cleaners, salt or ozone systems, glass filter media, etc...
The main difference will be the steps and the liner. Generally on an above ground pool, if budget is a factor, you can select an entry level 'package', which will usually have an A-frame ladder and a 20 mil (or sometimes even thinner) liner.
On a semi-inground pool, generally an A-frame ladder will not work or be sufficient, and a 25 mil liner is required for this pool, thereby eliminating an 'entry level' accessory package. For this reason alone, your options are starting at a 'mid-range' level (which is actually generally recommended for an above ground pool as well).
These aren't huge upgrades but I just want to be clear up front that some options are taken away from you on the semi-inground pool, because the very nature of the pool requires 'upgrading' accessories or certain components of the pool.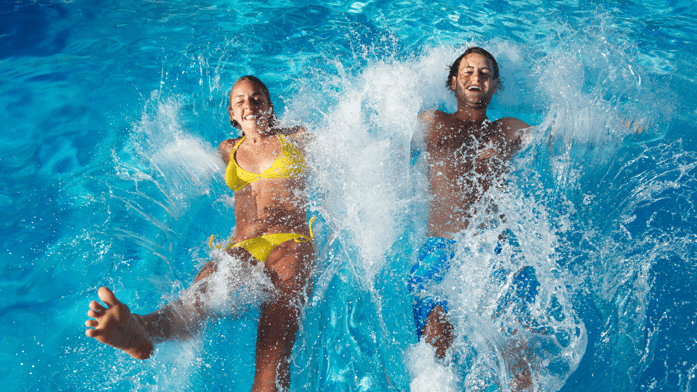 In summary, the pool types are very similar as to pool components, equipment and installation - the semi-inground pool is really an above ground pool on steroids, simply put. Each pool type has its own benefits, so I'm just going to bullet out what we at Country Leisure feel are the main benefits of each pool type and you can determine which are the most important to you!
Above Ground Pool Benefits:
1 Day Installation
Lower purchase price
More options on accessory packages allowing you to choose the most important upgrades
Can be buried up to 2'
Semi-Inground Pool Benefits:
Fully insulated wall allows for full bury & will keep pool water warmer longer
Freeform shapes available to give a more custom feel and will tend to allow for 'challenging' (long and skinny) backyards
Can be installed as full inground at a lower price than traditional inground pools
Quicker installation than traditional inground pool - lasting 3-5 days instead of multiple weeks
Our goal is to get you and your family relaxing and enjoying time together - either pool option accomplishes that goal - and hopefully this gives you an overall picture of which option may be the better fit for your family and backyard setting.
Next steps? Just Add Water!!
Have a question? Contact Us