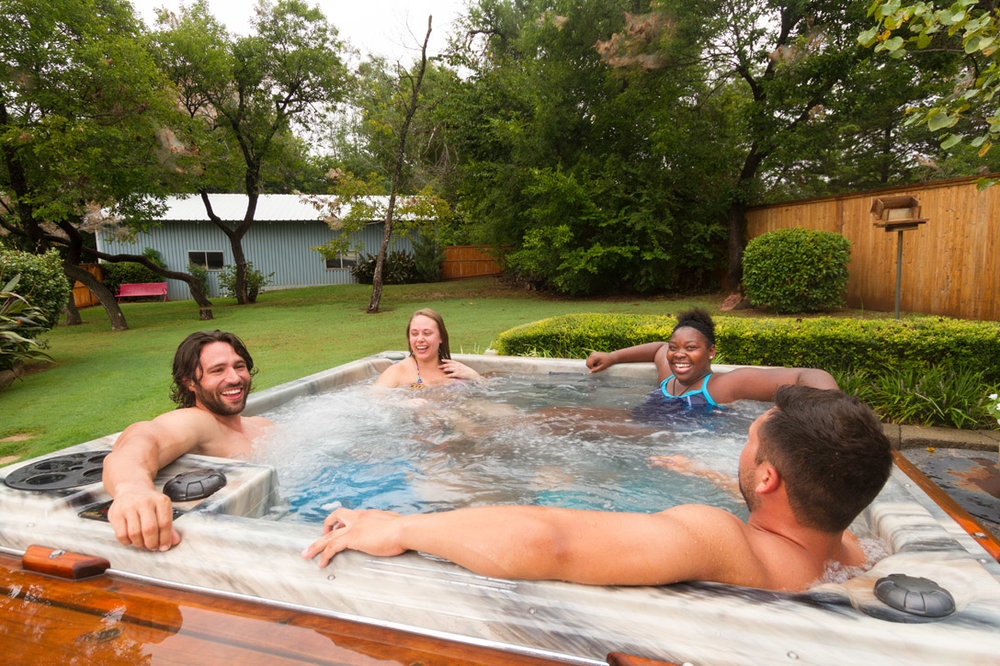 We often try on clothes before purchasing; we sample food at the grocery story before adding it to our cart; we sit on furniture before the salesman writes up a deal. You wouldn't consider buying a car without taking it out for a spin, so why purchase a hot tub without a test drive?
There are so many options when it comes to hot tubs — not just shell and cabinet color. With countless jet arrangements, varying seat heights, seat configurations, pressure and water movements, sizes, seating capacity and accessory arrangements, there are more options than you could've ever imagined.
So, how can you really know what you want unless you test out a variety of options?
To make a educated decision on what works best for you and the experience you're looking for, you'll need to gather your friends and family around and give it a try. Make it an adventure finding the perfect hot tub! Locate a dealer that offers several wet working models, set an appointment before or after store hours, put on your suits and hop in!
As you explore different hot tubs, testing them out, you'll notice a variety of jet styles. Small jets, big jets, jets that spin, ones that done, jets that shoot from the bottom and others from the top down, these styles in combination provide a different experience in each seat of the tub. Whether you're looking for massage therapy, relaxation, water exercise or pain relief in a targeted area, there are seating options out there.
So, when you're testing out different tubs, make sure to consider the effect you're looking for and how the jet configurations contribute that that experience.

In addition, there are varying seat configurations to consider. Some with plenty of open seating, others with bucket seats or loungers, each of these styles provide a different experience with unique benefits. Most often, people automatically write off bucket seats for fear of claustrophobia. Once you're able to experience them, though, you'll realize this type of seating provides a unique jet combination that's able to target the hips, often providing a roomier feel than expected. People also assume loungers are the best way to go, but can take up quite a bit of space in the tub. Taking a group to the demo is ideal, as you'll be able to see how everyone fits in the tub, ensuring maximum enjoyment.
Testing the tubs full of water also allows you to observe the pressure of the jets, feeling the movement of the water firsthand. Most hot tubs are decked out with valves, allowing you to manipulate the jet pressure and water movement. It's very helpful to have someone who's educated on the particular tub, assist you in improving your experience and educate you on the different configurations available.
Hot tubs generally have a capacity rating for 2-3 or 6-8 people, but the capacity rating stated on the brochure may not be aligned with the group size you're interested in sharing the space with. By taking a group to test out the hot tub, you'll see for yourself how comfortable you are with that particular size of tub and seating configuration.
There are also a plethora of accessory options, from waterfalls and lights to stereo and other media. Being able to experience these options will help you decide which ones are best for you and your family. You may decide watching Netflix on a pop-up screen while soaking in the tub is how you'd enjoy winding down after a crazy day. Maybe listening to the sound of a waterfall while drinking your morning coffee is the perfect way to start your day off writing. Having all kinds of changing LED lights bounce to the rhythm of the music may be the perfect way to get the party going.
The idea is figuring out what's right for you and the experience you're looking to create. Ultimately, if you've decided to spend your hard-earned money on a luxury item, you'll want to make sure you're making the best decision. Optimizing your enjoyment and experience begins with a simple test drive.