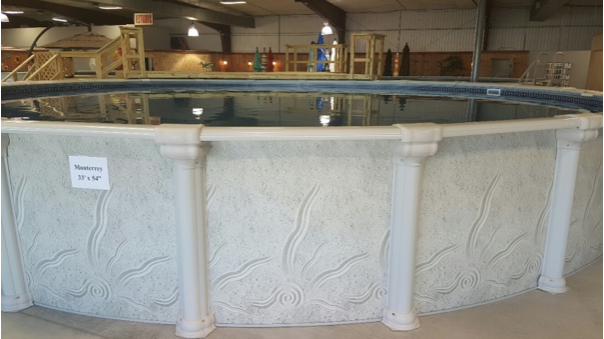 So, you've made the decision to purchase an above ground pool, and the first question you ask yourself is 'how much do they cost'? This should be a very easy question to answer, however, there are so many variables to consider, it becomes a very convoluted answer. We have installed well over 3,500 pools in the last ten years so I'm hopeful we can help answer the question, or at least shed some light on the variables. With our experience, we have narrowed the selections we offer and have gotten rid of the combinations that simply do not work. However, this is not the case in our marketplace. We see more and more companies putting together kits solely with price in mind. We believe this is the wrong approach, and we put the quality of product, safety, and lifetime cost of ownership first.
Above ground pools come in a lot of different sizes: 18', 21', 24', 27', 28' (in some brands), 30', 33' and a variety of different ovals. For the topic of this conversation, let's only consider the 18' pool, to not add to the confusion.
Above Ground Pool Kits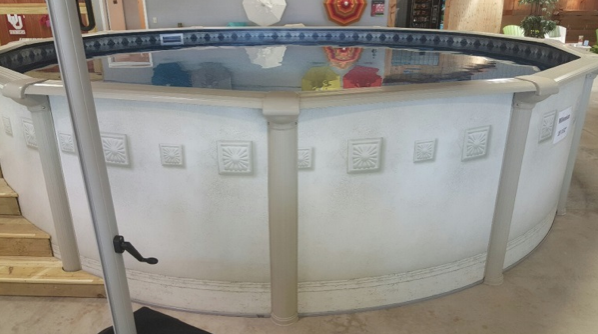 Ok, here goes…An entry level above ground pool would be an all steel pool. This means the components that make up the pool are composed of all steel. These are very popular pools due the long expected life if left in one place. I am not a fan of trying to move these pools because the track that is just beneath the surface can rust over time making it difficult to tear down and rebuild. Usually, this will not affect the pool as long it is not taken down and re-installed. An entry level pool kit would have 6" top rails and posts, and the kit alone would start around $1,700.
Next, you have mid-range pools which we call hybrids. These pools are usually resin and steel combined to get the best of both worlds while still trying to keep the price down. They are pools that have resin bottom tracks, resin top rails, steel top tracks, and steel posts, or any combination of these. Hybrid kits are going to start around $3,500 and go up based on the size of the top rail, post, and also the manufacturer.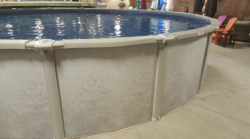 From here we go to the top of the line, which would be an all resin pool. There are two types of all resin pool kits: injection molded and extruded. I personally find that extruded products hold up slightly better during the storm season here in Oklahoma. In this line you should see larger top rails, up to 12", and bulkier posts. These pool kits are going to start around $5,000.
Liners
After you have determined the pool kit that is the best fit for you, type of liner would be my next priority. Why? Because this is the part of the pool that actually keeps the water in the pool—relatively vital consideration! I 'm going to list these in order from least expensive to most expensive.
Plain Blue Overlap: 12 to 20 mil
Blue Overlap with Print Bottom: 12 to 20 mil
Full Print Overlap: 12 to 20 mil
Full Print Beaded: 12 to 22.5 mil(You will not see any of the liner hanging over the outside of the pool on this liner type)
Keep in mind that with each type of liner listed above can have varying thicknesses as well. I've seen 8 mil (millimeters thick) liners—only once—that in some cases will work fine, but since this (to me) is one of the most important aspects of a pool, I tend to lead customers to 18 mil and thicker liners. Also, do not buy into the hype–thicker is not always better. Some dealers tout they have 30 mil liners. This simply is not true–it is a 'Perma 30', which has an 18 mil wall with a 12 mil bottom—add these together and you get 30 mil, however, adding the top and bottom thickness together in not an accepted industry practice. Besides, a 30 mil liner is simply too heavy for an above ground pool wall, and the installation would be a nightmare. You may also see gauge as a liner measurement. Again, not sure about this one. Steel is measured in gauge, and vinyl is measured in millimeters. Keep in mind these are liners for above ground pools. Inground pool liners can be thicker because the wall can handle the weight—but that in itself is a whole other discussion.
Pumps and Filters
Now let's look at pumps and filters. If this is where if you spend the least amount of money, it will wind up costing the most in the long run. Let me explain this one…. Once you have your pool installed and filled with water we need to keep that water looking its best, and in order to do this we must filter and sanitize the water. You will hear pool professionals talk about flow rate and turnover rate; this is how we determine how long a pool pump needs to run.
On an 18' pool that has a wall height of 52" you will have 7,600 gallons of water in it. If you have an 18" filter (which means your filter measures 18" across the sand bead) with a 1hp pump, you will be able to filter 25 gallons a minute (GPM), which is 1,500 gallons per hour (GPH). 7600 gallons/1500gph = 5.06 which means when the filter is clean it takes just over 5 hours to turn the pool over. To maintain good water quality, we like to see the pool turned over 4 times a day. You can see in this case you would have to run the pool for 20 hours a day in order to achieve desired turnover.
Or you can use a larger filter and slightly larger two speed pump, and get the same results. Let's now say we have a 22" filter with a 1.5hp 2 speed pump. This system design is 60 gpm which is 3600 gph on high and 1500 gph on low. This means on high it takes a little over 8.5 hours to turn the pool over the four times we like to see. On low it takes almost 20 hours. Now here is the math on what each cost per day for the two different pumps. Remember, the second pump has two speeds, so it is broken out for both high speed and low speed in the comparison below.
1 hp: 115v X 12 amps = 1380 watts/1000 = 1.38 kwh X 20 hr a day = 27.6 kw a day
27.6 kw X .0951 cost = $2.62 cost per day
1.5 hp: on high 115v X 16.4 amps = 1886 Watts/1000 = 1.89 kwh x 8.5 hr a day = 16.06 kw a day
16.06 kw X .0951 cost = $1.52 cost per day
1.5 hp: on low 115v X 4.4 amps = 506 watts/1000 = .506 kwh X 20 hr aday = 10.12 kw a day
10.12 kw X .0951 = $0.96 a day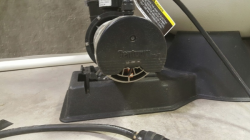 This is assuming the filter is clean and in good working order. When it gets dirty, the amps used go up, thereby increasing the cost. It is extremely important to keep the filter clean. Also assuming cost per kw. With assuming those two things I'll go back to my first statement: 'If you spend the least it will cost you the most'. With the average swimming season in Oklahoma being 180 days, the first pump will cost you $471.60. If you choose to upgrade and run the pump on low except when vacuuming, your cost to run the pool for the season is $172.80, which is a difference of almost $300.00. This is essentially paying for the upgrade in the first year. Talk about ROI! As far as cost, the larger filter and two-speed pumps should only be a $250 upgrade.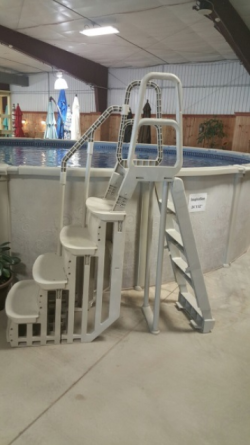 Ladders vs Entry systems
There are simple A-Frame ladders that work great on above ground pools, most at a very low cost. That is why it is generally included in the kit price. Entry systems are larger and sturdier than most A-Frame ladders and come in a variety of sizes. The entry systems will start around $450—this would include both the inside steps and the outside ladder that can be removed for safety. These can go up to and well over $2,000 depending on size and model you choose.
Maintenance Equipment
Ok, now we've picked out our pool kit, liner, pump & filter, and ladder or entry system. It's time to think about what we are going to need to maintain our pool. All the things I am going to mention here should be included with your pool kit, however, in order to drive perceived cost down, many companies will not include these items. You will need a telescopic pole, skimmer net, brush, manual vacuum, and vacuum hose. You should also have test strips or rip tester.
Auto cleaners vs Robotic cleaners
Suction side auto cleaners are a great way to go! Most companies will not include this in the price of their pool, however, there are a few that do. A suction side auto cleaner will clean the bottom of your pool—it uses your pump and filter to do this, as it is hooked up the pump through the skimmer. It will only clean when the pump is turned on. The cost of an auto cleaner will start around $199. Then you have robotic cleaners. These little things are awesome! They will clean your pool even if your equipment is turned off. They have a very small pump built it to them which allow them to circulate the water through their onboard filter, which could be either cartridge filters or a filter bag. Some of them will even scrub the tile line. The robotic cleaner will start around $299, but you would be better off spending a little more—you will be glad you did when your pool is sparkling!
Install
So far we have addressed how much a kit costs, different liner options, and cost to run your type of system. This is all great information for the pool buyer who is going to install the pool themselves. If you are planning on having a professional install your pool that cost can be anywhere from $1,000 to $3,000, and can go up from there even if you have lots of dirt that needs to be moved, or if you are wanting to dig it down a little (which I would not recommend).
There is one last thing to consider—most big box stores are now selling above ground pools and they cost $150 to $900, and will usually last 2 to 3 years before they need to be replaced. When looking at these options, keep it mind the pump and filter systems of these pools do not do a very good job of keeping these pools clean. Some of these pool buyers get so frustrated with their pool and assume all pools are the same. This is just not the case.
In Summary
In closing, we will look at a great combination that would be an ideal entry level package. This would include an entry level 18' pool kit, beaded liner (20 mil), great filtration system (22") with 2 two speed 1.5 hp pump, entry system, maintenance equipment, auto vac, and install—you would be looking to spend around $5,000.