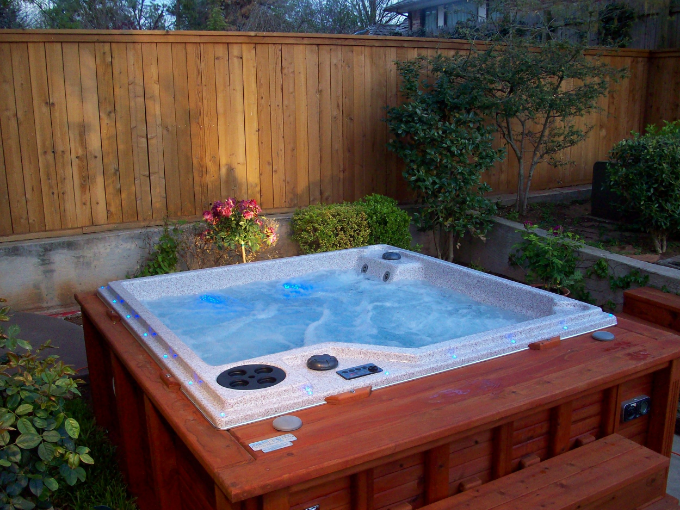 If you've decided to spruce up your home with a hot tub, kudos – you'll be reaping the benefits of your investment in no time! As with all major purchases, though, a bit of research and investigation beforehand can save you from serious buyer's remorse. And if you decide to buy a pre-owned model over a new hot tub, it's even more important that you do a thorough check of the equipment before signing anything.
See it in action.
Before you write a check, make sure you see the hot tub in action. Go to the seller's home (or wherever they're storing the spa) and ask him to turn on the hot tub. Once it's turned on, don't run to the ATM for your payment. Instead, stick around for a few minutes and make sure you don't notice anything odd happening – for example, strange noises coming from the hot tub. Always beware of buying an empty hot tub.
Look at the cartridge filter.
Ask the owner where the cartridge filter is located on the pre-owned hot tub. Once he shows you where it's at, make sure to inspect the cartridge filter thoroughly. If it's torn or worn out, you need to take into account that you will have to replace it – which is not typically very expensive, but the condition of the filter can give you a great clue as to how the spa has been cared for in the past. If it is extremely dirty or looks to be in generally poor condition, the maintenance and upkeep may have been less than adequate. When a hot tub filter is neglected, it can lead to expensive equipment replacement.
Listen to the hot tub.
When it's turned on, the spa should make a low humming sound. If you hear anything else that's definitely not a hum, that's a good indication that the pump is going out, which can also be expensive to replace.
Look at the thermostat.
While you've got the thing running, check out the hot tub's thermostat. If it doesn't work properly, this means that it will be unsafe to use the hot tub because you won't know the exact temperature of the water. Generally, you'd want the water temperature to be right between 100 and 104 degrees. If the temperature doesn't quite get there, there's probably something wrong with the heater.
Make sure seals aren't leaking.
It's tough to soak in your hot tub that's leaking water. When you're looking at the thermostat, make sure to check out all the spa's seals. If any of them are leaking, go ahead and plan on replacing those, too. Look under the cabinet for dripping water or puddles. Also check the motors for calcium stains or evidence of prior leaks.
If you're buying a pre-owned hot tub, do your research.
If you notice any of the above mentioned problems, you'll need to get an estimate as to how much will cost to fix them before going through with the purchase. If there are significant repairs to be made, you might find that buying a new hot tub will cost you less than the fixed-up used model. Don't forget to factor in the cost and hassle of moving a hot tub into your buying equation.
There are valuable pre-owned spas out there – you just have to know what to look for when you're buying!