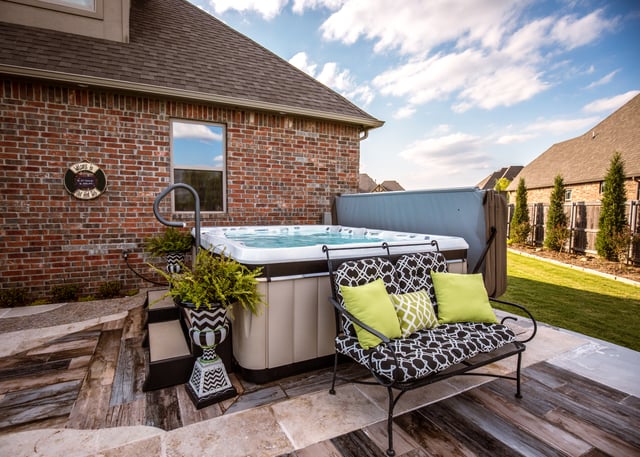 If you are even beginning to consider adding a hot tub to your home, the first question I'm sure is reoccurring in the discussion is 'How much does a hot tub cost?'. I've done a bit of research online regarding this topic, and have found there is a lot of information out there about monthly cost of hot tub ownership, but very vague answers regarding the initial purchase.
The first answer you will probably see is 'it depends', or 'there is a wide range of pricing'. While this is accurate information, you can very easily drill down into very specific ranges of hot tub costs with a few key pieces of information.
Roto-Molded Hot Tubs

Entry level roto-molded hot tubs start at $2,500 and go up to $5,000. These are terrific for anyone wanting to 'try out' the hot tub way of life, those who aren't sure how much they will use it, or anyone looking for a convenient and easy start to hot-tubbing.
These hot tubs are generally very easy to move—weighing 250 – 450 pounds, and are the easiest hot tub to begin using with little to no prep work. They have a 110v electrical connection, often referred to as a 'plug-n-play' since no additional electrical work is required, and they can be plugged into a standard outlet.
These hot tubs are a great option for renters, since no permanent changes must be made to the dwelling to get the hot tub up and running, and are also popular options for RV owners, as they are easy to move and set up with the RV.
Traditional Acrylic Hot Tub
After the roto-molded hot tubs, you will generally move into the more traditional hot tub with an acrylic shell and cabinet. This is where the pricing model gets a bit more involved, but can be simplified a bit by thinking about them in terms of an SUV. The key point to remember is you can easily go out and purchase an SUV for about $20,000 – BUT, you can also purchase an SUV for close to $90,000. All SUV's are not created equal, and that is the same with hot tubs.
A traditional hot tub can be viewed as an entry level SUV—a step up from a car (roto-molded hot tub), but the price of the SUV can fluctuate greatly based on the features selected—heated seats, 4 wheel drive, hands free lift gate, upgraded sound system….the list goes on and on. Hot tubs are generally priced on the same model. You will find a variety of 'series' or 'collections', which essentially just equates to the next level of upgrades.
Base Models
Most hot tub manufacturers will have a base level series/collection—this will be similar to your base model SUV. They will have a nice assortment of jets, basic functionality in their control panel, and all the 'standard equipment'; acrylic shell, cabinet, insulation, pumps, and filtration.
These base level hot tubs will range in price from $4,000 - $8,000. The range in pricing within the base level hot tubs will generally relate to the size of the hot tub (how many people will the hot tub hold), and the actual number of jets in the hot tub.
Mid-Range Models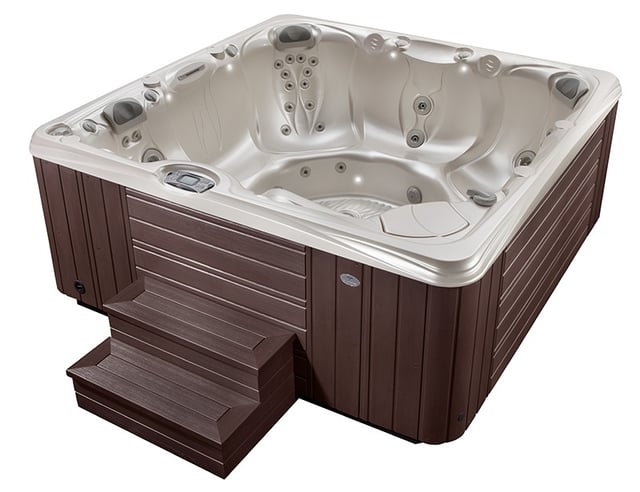 The next series/collection will be a mid-range level. These hot tubs will include all the items discussed above, but generally will have an increased number of jets, and more variety in the type of jets - some include specialty jets not offered in the base level series. This level of hot tub will have diverter valves and adjustable jets, allowing for more customization of water pressure, and generally has larger pumps to allow for more control of the water, upgraded control panels with increased functionality, and upgraded lights and speakers.
The mid-range level hot tubs will start at $8,000 and go up to $11,000, again with the range in pricing being attributed to the size of the hot tub and the actual number of jets and type of jets offered in each model within this series/collection.
Luxury Models

Lastly, there will generally always be a 'luxury' series/collection of hot tub. This is the equivalent to the fully loaded luxury SUV—these hot tubs will have the best of the best-upgraded everything as a standard option.
Generally you will also notice different cabinet options with this series. These hot tubs will have the most jets, the largest variety of different types of jets, and will allow for the most customization of water pressure, and additionally most come with some type of programmable massage seat. This series/collection will have larger pumps, and sometimes even additional pumps, to allow for the additional customization of water pressure/flow.
The luxury hot tubs tend to start at $12,000 and can go up to $20,000 depending on the brand, and following the other pricing models, this range fluctuates based on size and total count of jets in the hot tub in most cases.
As you can tell, buying a hot tub is similar to purchasing an SUV, and the final purchase price is determined by which options are the most important and worth the extra money to you personally. And, for those of you who aren't sure exactly what options are the most important to you initially, there are options available that allow you to upgrade certain elements of your hot tub after the initial purchase. Happy hot-tubbing!