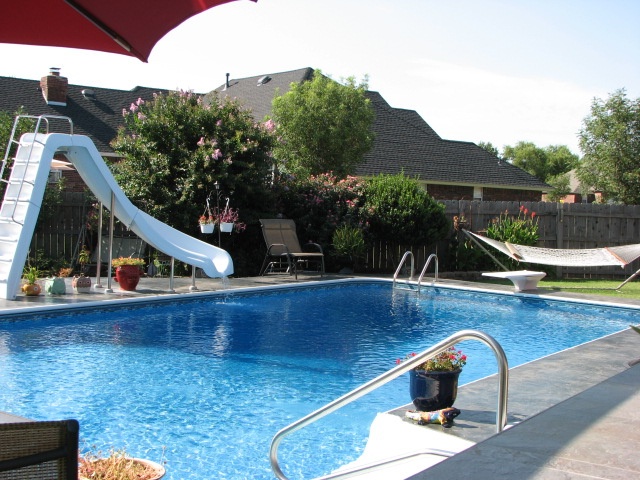 As the weather begins to warm up, pool season is fast approaching. Adults and kids alike look forward to the part of the year when they can cool off with a refreshing dip in the pool. As you know, there's a bit of work to be done before you do your first cannonball.
Remove the Pool Cover
First, inspect the pool cover, as it's likely that water accumulated on its surface throughout the winter months. If you do find accumulated water, use a pump or shop vacuum cleaner to remove it from the cover. This not only lightens the cover for removal, but it also prevents the stagnant water from entering the pool. If there's an excess of leaves or debris on your cover, use a leaf blower to remove it.
You should also sweep the leaves and debris from the area surrounding the pool. This will help you keep the pool itself free of dirt and leaves. If any leaves happen to fall into the pool, use a large pool net to remove them.
Inspect the Pool
Once you've cleaned and removed the cover, it is crucial that you thoroughly inspect the pool itself. You should always remove the freeze plugs, as they have already done their job of preventing freezing throughout the winter months.
In liner pools, be sure to notice the water level of the pool. If it appears to have dropped more than you would have expected during the winter months, check the liner carefully for holes. Also, be sure to look for any damage to the skimmer and pump/filter from freezing temperatures.
Always re-install safety rails, ladders (with the exception of above ground pools), and diving boards prior to opening your pool. If any pumps need replacing, this is the time to install new ones. After re-installing pumps, begin scrubbing the pool's surface and refill the pool.
If the pool contains leaves or debris, be sure to carefully scoop it all out before turning on your pump. A frequent cause of pump failure is the collection of leaves clogging the impeller, and pool start-up is the main culprit.
Common Steps to Re-opening a Pool
Here are a few reminders for spring openings:
Water Balance:

Be sure to clean the pool the best you can before adding chemicals (brush, scoop & vacuum)
Then, test your pH and alkalinity and adjust them to the proper range – all other chemicals are most effective when pH and alkalinity are balanced
Add your routine chemicals – these could include Pure 'n Blue, chlorine, salt, algaecide, etc. – be sure to follow recommended dosing instructions carefully
Sand Filters:

Sand may need to be cleaned or replaced depending upon its age and usage
Don't forget to backwash
DE Filters and Cartridge Filters:

Filters must be checked for debris and cleaned
Check for Plumbing Leaks- Be sure to check your exposed plumbing for drips to see if any unions need to be tightened or connections need to be mended
If you have an unidentified water loss it is possible (especially with an in-ground pool) that water loss is due to leaking gaskets around lights, or possible leaks in buried plumbing. You may need a professional to repair these types of leaks.
Chemical Tips to Save you Time
After you add fresh water to the pool, wait 24 hours before testing to get the most accurate reading. This will reduce the amount of time you spend trying to balance the water.
Be sure you are not using chemicals that were exposed to freezing temperatures or are expired as they will be mostly ineffective.
Once you've done the grunt work, your pool will be ready to go. Set up your lounge chairs and umbrella tables, and you and your family can enjoy a summer by the pool. Cannonball!