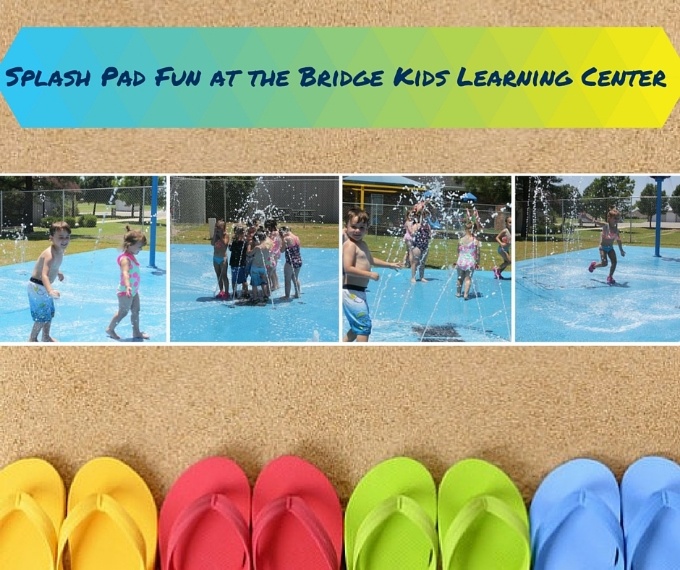 As a kid, do you remember trying to stay cool during the hot summer months by running through the sprinklers or gliding down the slip-and-slide on your belly? Now your children can safely run around on a splash pad that gets them soaked without racking up your own water bill.
A splash pad, also known as a spray-ground, provides water features that include moving jets, misters and pails that can fill and cascade water. By utilizing a zero-depth design, splash pads eliminate the risk of drowning and provide a safe way for small children to play outside.
Last month, we had the pleasure of donating a splash pad to the Bridge Kids Learning Center in Mustang. The Mustang preschool teaches toddlers and children all the way up to twelve years of age. In the past, students from the center would play outside with a garden hose, but now they have a splash pad to keep cool.
Watching the children joyfully run through the jets brings smiles to our faces. One of the little girls gleefully exclaimed that the bubbles are her favorite part of the splash pad.
The directors of the preschool, Marla McKinney & Trish Menz-Reeves, said "Words cannot express how grateful we are that Country Leisure has partnered with us to help us further fulfill our mission of providing a positive learning environment by creating such an awesome opportunity for our children. We are inspired by their generosity and thankful for their amazing hearts for children."
Why are Splash PadsGrowing in Popularity?
Value– Contrary to what some may believe, splash pads are affordable.
Safety– Statistics show children most at risk of drowning are between the ages of one and three. Splash pads make it easy for kids to play in the water with little to no risk involved.
Size– Most splash pads are customizable according to size, making a great addition to your pool.
The donation of this splash pad kicks off the new service we offer. We are now providing residential and commercial splash pads for home communities and businesses alike. Check out our website for models and pricing.